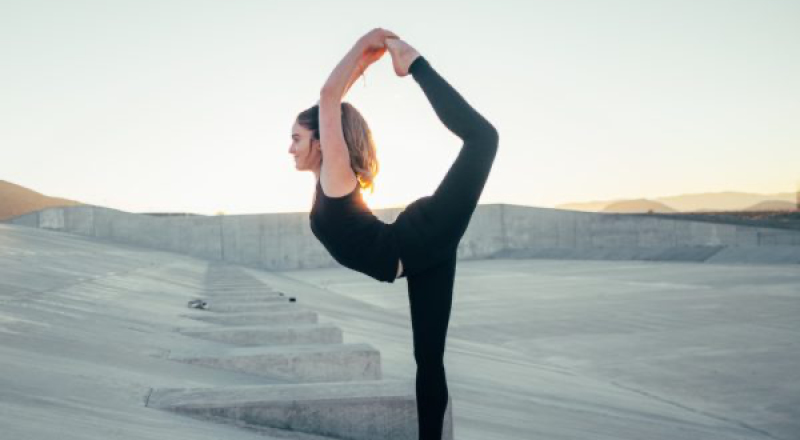 May 27, 2020
Your CBD Recovery Guide.
---
---
To some, recovery looks like curling up under the covers with a good book. Others enjoy taking a nice dip in the hot tub…no matter what your recovery looks like, one truth remains: We all need it. 
Recovery is so important, that we developed a full line of products designed specifically to enhance your recovery; both mentally and physically. Each individual product is meant to play a designated role in the overall recovery process. Whether you're a daily runner, a weekly walker, or are just looking to up your recovery game, keep reading for a full CBD recovery guide — to learn which products you should be taking, when, and how often.
OVERLOOKED, UNDERAPPRECIATED.
First things first, we know recovery is important, but what's the real reason for it? We like to think recovery is the most overlooked and underappreciated aspect of fitness.
When you exercise, you create tiny tears in your muscles — these tears cause the pain associated with delayed onset muscle soreness (DOMS). Muscle soreness not only inhibits reaching our fitness goals by preventing consistent exercise, but it can also put you at an increased risk of injury.
It's the recovery process that not only heals your muscles but allows them to rebuild larger and stronger than they were before. Keep reading for a breakdown of each of our products:
CBD OILS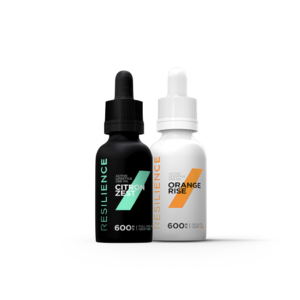 Think of Resilience Oils as the base of your CBD routine. These are the products that should be taken consistently every single day to truly notice a change in how you feel.
What makes these oils the basis of your CBD routine? They are designed for internal and external, full-body recovery. When you ingest CBD, you're supplementing your body's pre-existing cannabinoids. The more consistently you take them, the more cannabinoid receptors you'll build up in your body. These receptors promote balance throughout the body and help to relieve inflammation and stress, whatever the cause may be.
RESILIENCE CBD OIL ROUTINE TIPS: 
No matter the amount, the key is consistency with CBD.
Start with one full dropper every single morning or night.
We like to say start low and go slow. If you're not noticing a change after a week of taking one dropper daily, up your intake to two droppers.

Try taking it once before you go to bed, and once when you wake up in the morning. You can even take an extra dropper before working out for maximum post-workout recovery.
CBD TOPICALS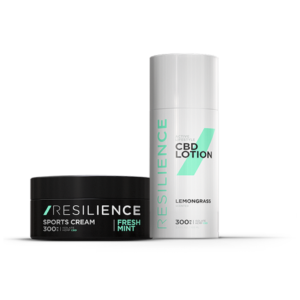 If our CBD Oils are the staple of a CBD Recovery Routine, Resilience CBD topicals are their sidekicks.
CBD Topicals work to externally provide relief. When you ingest CBD, it enters your bloodstream to work throughout your full body. When you apply it topically, it doesn't enter the bloodstream and works with localized cannabinoid receptors to provide relief to that specific area. This is why our CBD Sports Cream or CBD Lotion are great options for anyone who has specific pain points or prior injuries.
RESILIENCE CBD TOPICAL ROUTINE TIPS: 
If you're looking for maximum relief of pain points, physical tensions, or post-injury recovery, try using the Sports Cream before or after physical activity, or as needed.
If you're looking for a daily, general recovery method, try our body lotion. Apply it to pain points daily or as needed.
With both products, increase usage as needed. If you want to maximize the effectiveness of the CBD, try pairing it with one of our CBD Oils.
CBD GUMMIES
After being released, our CBD gummies quickly gained traction in the Resilience community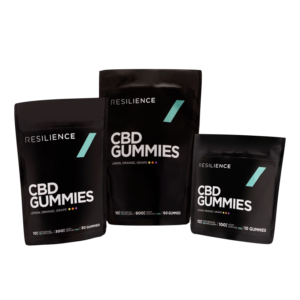 and have become one of our fan favorites. Why? They are convenient, taste great, and are the easiest way to ingest CBD in an effective way.
We don't think relaxing or recovering should be a luxury — but it can feel like one. These take all of the best parts of our CBD Oils and pack them into a portable pack of gummies.
RESILIENCE CBD GUMMY ROUTINE TIPS: 
Each gummy contains 10 mg of CBD.
Start by taking 1-2 per day for about a week, see how you feel, and increase usage as needed.
No need to adjust your other Resilience CBD product routines if you add these in. They're a great supplement to have with you for when you need them most.
CBD BATH BOMBS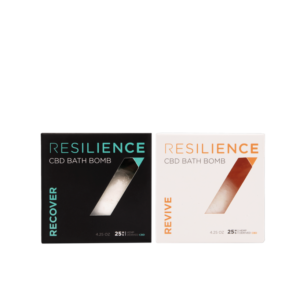 If you're looking for an immediate way to relax and unwind with CBD, this is where our CBD bath bombs come into play.
If you've ever applied a CBD topical for relief, this is like submerging yourself in one. The CBD works with the other bath bomb ingredients to reduce inflammation, relieve stress, and promote better sleep. Each bath bomb contains Dead Sea and Epsom salts, and essential oils that all play a different role in relaxing and relieving.
RESILIENCE CBD BATH BOMBS ROUTINE TIPS: 
If you want to take a bath in the morning to wake up, reset, while getting your mind and body ready for the day, Revive is the bath bomb for you. It contains orange, lemon, and spearmint essential oils that all work with the CBD to awake the body and boost your mood.
If you're looking to recover and unwind after a tough day, Recover has your back. The Recover Bath Bomb contains menthol, spearmint, and eucalyptus essential oils that reduce inflammation and relax pain points.
Have any other questions about your CBD routine or which products you should add to yours? Feel free to reach out on our contact page or directly to contact@ResilienceCBD.com
---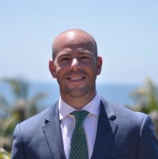 Written by: Michael Tatz | Linkedin
Michael Tatz is the Co-Founder of Resilience CBD,  and a passionate leader in the health & fitness world helping others rise to and crush their wildest goals.  A former Division 1 college wrestler,  Army Officer,  and investment manager at Goldman Sachs,  he has pushed his body and mind to the limits on the mats, dressed in camo,  and in the boardroom.
Today, he spends his time leading Resilience CBD to develop the absolute best recovery products for athletes everywhere.  Resilience was founded after CBD personally impacted Michael's life,  and the brand was built to partner with everyday athletes in pursuit of conquering their most difficult challenges,  rebounding after their toughest performances,  and rising to their goals that once seemed impossible. 

Share this Blog post!