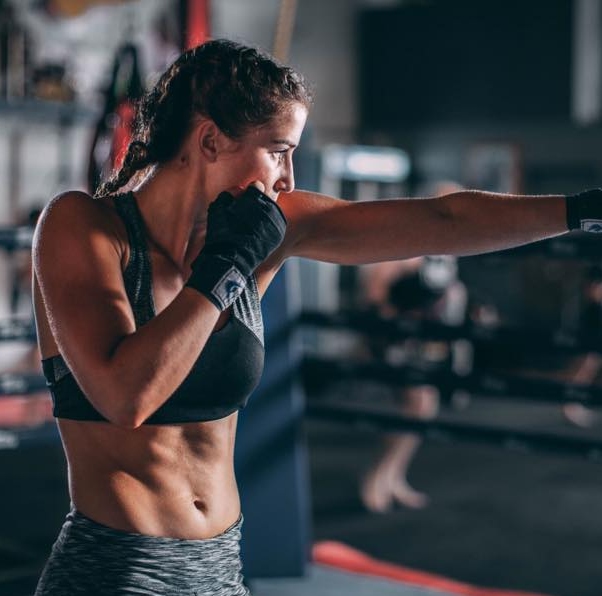 Jessica Evans
FightCamp Trainer & MuayThai Fighter
Huntington Beach, CA
About Jess
Jessica started boxing in the states in 2011, where she quickly advanced and took her first couple of fights in a World's boxing tournament six months later. Shortly after, switching to Muay Thai, and moving to Sydney, Australia in 2012, she joined Bulldog Gym, home of the McKinnon brothers. Immediately Bulldog saw Jess's potential and had her competing in Sydney 2 months later. Jess took away 2 belts for her 52kg weight division and had a stunning KO with a spinning back fist in December of 2013, giving her her nickname "Pocket Rocket." She has had 9 amateur fights and currently resides in California, training under the gym Classic Fight Team.
Jess is passionate about health and fitness and teaches Muay Thai and boxing to others, putting a strong emphasis on technique and fundamentals. She believes if you learn it right the first time, you can prevent injury and avoid creating bad habits.
Personal Philosophy
Do it scared! Life will constantly throw challenges your way and it's in those moments where we can decide to embrace it or run from it. Never stop learning. Be a student to the game, whether it's personal development, practicing a new language, sharpening your work skills, or learning a new sport or routine, constantly find ways that you can grow and challenge yourself.
What fuels your fire?
Watching someone do something they never thought they were capable of and helping them realize they are stronger than they know. Helping people discover new passions and to prioritize their health.
Why Resilience?
It's easy to support something you believe in! Not only do the products work and are great for recovery, I believe in the mission of the company and the support it offers for our veterans. I also believe in the mantra, to be resilient means to have the capacity to recover quickly from difficulties; toughness. Resilience will help get you far in life and I'll take a double dose of it!