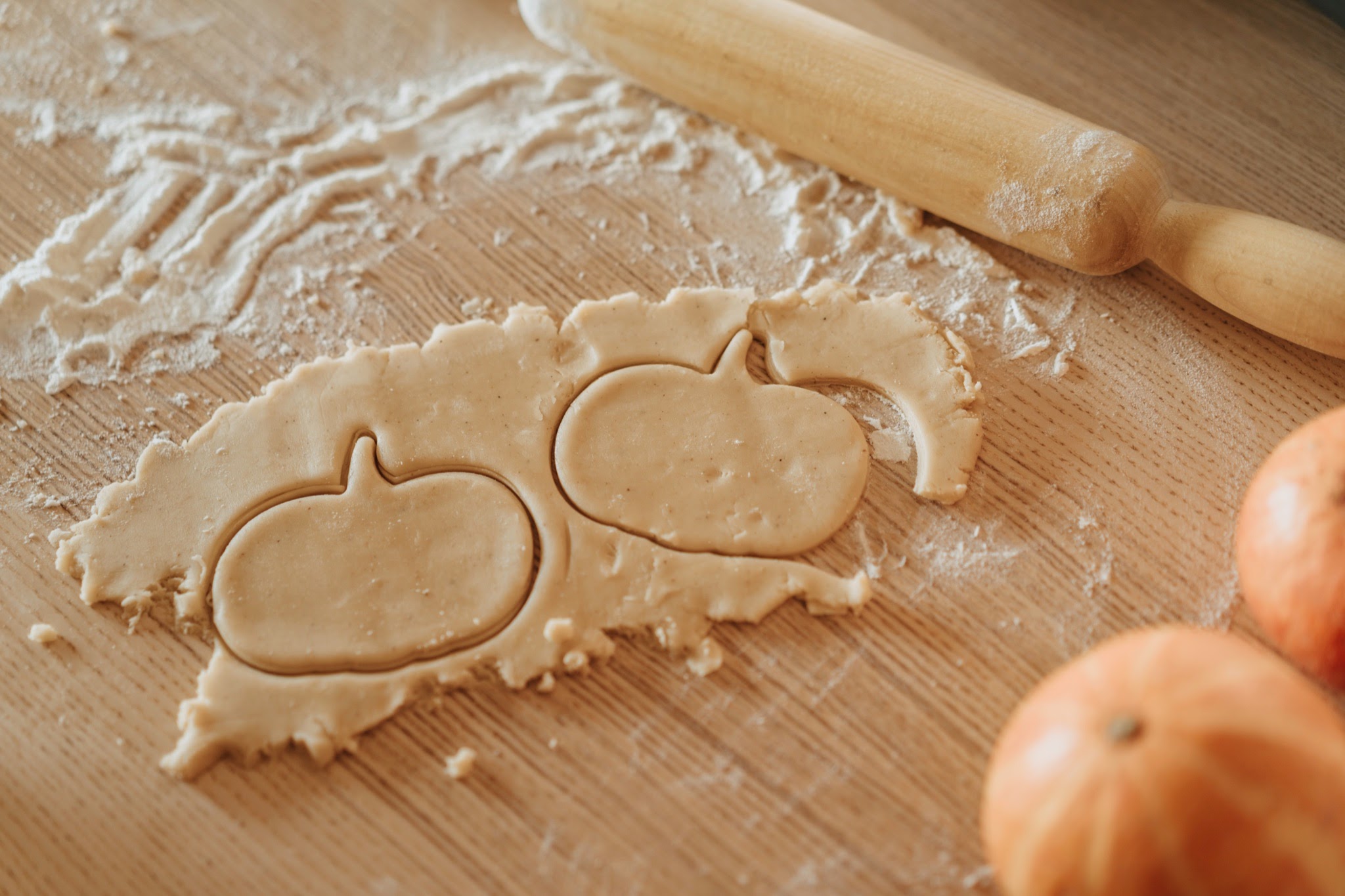 October 5, 2022
Whether a crisp autumn breeze is blowing your pumpkin obsession just a tad out of proportion or you've got a year-round yearning for sweet, pumpkin-flavored treats, it's time to surrender to the power of pumpkin spice with a mouthwatering CBD cookie recipe.
It's simple: Take a classic cookie, layer in a few flavors of fall, and (ready for the real kicker?) add a few drops of CBD oil, and you've got yourself a warm, chewy snack that not only satisfies your cravings but also supports your overall health, wellness, and vitality. The ghosts and the ghouls are sure to be jealous.
Follow along with this step-by-step recipe for pumpkin spice CBD cookies that are just as enchanting as fall itself—crunchy, crisp, and oh-so-sweet.
Tips for Cooking With CBD Oil
Wait—you can cook with CBD oil? The answer is a resounding yes! If you've used CBD products before, perhaps you're familiar with more traditional methods of use, such as consuming Resilience CBD gummies, applying our topical Sports Cream to soothe sore muscles, or slipping a couple of drops of either our full spectrum or isolate oil directly under your tongue as needed. 
But if you want to infuse a bit of organically grown goodness into your recipes, follow these best practices—the cooking experts at Taste of Home suggest a few rules when crafting a CBD edible treat: 
Rule 1:

Avoid direct contact with heat since high temperatures may alter the CBD composition and make it ineffective

Rule 2:

Mix CBD with other cooking oils such as avocado oil, coconut oil, or olive oil to make it easier for your body to absorb and take advantage of its many benefits 

Rule 3:

Start with small amounts of CBD oil per serving (5-10mg) until you become more familiar with how it affects your body over time
Aside from the typical baked good, consider mixing CBD oil into other kitchen concoctions such as:
Smoothies or smoothie bowls

Soups and stews

Coffee or tea

Dipping sauces

Other baked goods like bread, brownies, muffins, or cupcakes 
Now that you're clued into the basics of baking and cooking with CBD oil, let's get onto the recipe. 
CBD-Infused Cookie Recipe: Pumpkin Spice Edition
Prepare for your taste buds to be taken by pumpkin spice storm. This is a recipe that you'll want to keep in a place for safekeeping so that you can come back to it anytime you've got a craving for fall flavors. 
We've blended a few tips and tricks from Butternut Bakery, along with our own not-so-secret ingredients for a mixture that'll make you question why you ever baked cookies any other way.  
What You'll Need
It's time to peruse your cupboards or prepare your shopping list. Here are the ingredients you'll need to complete this perfect for Fall CBD cookie:
1 cup unsalted butter

1 ½  cups dark brown sugar 

1 egg yolk

3 tbsp maple syrup

1 tsp vanilla extract

⅓  cup pumpkin puree (either homemade or store-bought) 

2 ¼  cups all-purpose flour

1 tsp baking soda

½  tsp baking powder

½  tsp salt

1 ½  tsp pumpkin pie spice

½  tsp cinnamon

2 mL

Resilience Isolate CBD Oil

(orange citrus flavored)
Pro-tip: Consider swapping out the butter for vegan butter and use dairy-free yogurt instead of an egg to boost this recipe's plant-based deliciousness. 
Baking Instructions
Now that you've compiled each of your ingredients, it's time to get started on the baking process. So, turn on a few fall-themed tunes, tie up your favorite pumpkin-themed apron, and let's dive in.
Step 1:

Start by preheating your oven to 340 degrees Fahrenheit. As

HuffPost

reports, it's best to set your oven temperature no higher than this to preserve the potency of the cannabidiol while your cookies are baking.

Step 2:

As you wait for the oven to reach the desired temperature, brown the butter in a pan over medium heat. Once it reaches a copper-colored state, remove it from the flame, and chill it in a separate dish without letting it harden. 

Step 3:

Once the butter has cooled but not solidified, mix in your desired amount of Resilience CBD Oil. The orange citrus flavor will provide a subtle, citrusy zest to your recipe without overpowering the predominantly pumpkin flavor. 

Step 4:

Next, gather some of your dry ingredients including the flour, baking soda, baking powder, salt, pumpkin pie spice, and cinnamon. Stir them together in a bowl until well-mixed and set aside. 

Step 5:

In a separate bowl, combine the softened butter and CBD oil blend along with the packed brown sugar.

Step 6:

To that same bowl, add in the egg yolk, maple syrup, vanilla extract, and pumpkin puree. Whisk until thoroughly combined. 

Step 7:

Continue by folding your dry ingredients into the wet ingredients using a rubber spatula or wooden spoon. 

Step 8:

The final product should have the consistency of dough that is soft but not overly sticky or wet. There's no need to chill this dough before baking. Store it at room temperature while you prepare the cookies on your baking sheet. 

Step 9:

Be sure to prepare your baking sheet by lightly greasing it or covering it with a single layer of parchment paper. Scoop the cookie dough onto the parchment paper, leaving about three inches in between each cookie. 

Step 10:

Bake for 12-15 minutes or until the cookies are crisp around the edges and lightly cooked through in the center. Feel free to leave them in for a few minutes longer if you prefer a crunchier cookie. 
For Sweet Treat, Add a Frosted Coating
For an added dose of sweetness and spice, prepare a frosted coating for your cookies and cover them before putting them in the oven: 
Step 1:

In a small bowl, combine two tablespoons each of granulated sugar and brown sugar with one teaspoon of cinnamon. 

Step 2:

Then, stir to combine the ingredients and proceed by tossing small scoops of cookie dough around in the mixture before transferring the cookies to a baking sheet. 
The final step? Enjoy, of course! Share with a friend who's in need of a sweet pick-me-up or keep them all to yourself (we won't tell).
Frequently Asked Questions About CBD
Not familiar with CBD or how you can incorporate it into your lifestyle? No problem. Peruse the questions and answers below to find all you need to know about what CBD is and what its potential benefits are. 
What exactly is CBD? 
Before baking with CBD, consuming a CBD gummy, or applying a topical CBD cream, it's important to be informed about what you're actually putting into (or onto) your body. 
Short for cannabidiol, CBD is a non-psychoactive component of cannabis that is derived from the hemp plant. It is an integral element used in medical marijuana and contains no detectable traces of THC, the psychoactive component typically found in marijuana.
When consumed or applied, CBD interacts with your body's endocannabinoid system to promote whole-body homeostasis and wellness. 
Is CBD legal? 
Yes! In 2018, the Farm Bill legalized CBD in cases in which it has been derived from the hemp plant. While it has been largely decriminalized across all 50 states within the USA, there are varying state-level restrictions that dictate how it can be used and distributed. 

Other CBD Recipes to Add to Your Cookbook
Looking to diversify your cookbook and include a few more fall-inspired CBD creations? Take some inspiration from these recipes that can be consumed and enjoyed all season long.  
CBD honey and matcha latte

– The next time you're in need of a warm beverage or a slight caffeine boost, make yourself a matcha latte that's brimming with antioxidants and hemp health. In a blender, combine hot water, a scoop of your favorite matcha powder, milk of your choice, and CBD-infused honey. If you can't get your hands on a hemp-honey combination, make it yourself instead! Just add a dollop of honey along with a few drops of CBD oil, blend, and enjoy. 

CBD strawberry vinaigrette

– The perfect accompaniment to any salad? A fruity vinaigrette dressing that's mixed with a dash of tangy CBD oil. To enjoy the last bit of summer, start with some fresh, flavorful berries such as strawberries or raspberries, add them to a blender with olive oil, red wine vinegar, apple cider vinegar, then mix in a drop or two of

Citron Zest Full Spectrum CBD Oil

. Puree until smooth, then drizzle atop a bed of greens and fresh seasonal vegetables and relish in a sweet and savory combination that not only tastes great but also keeps you feeling calm and relaxed. 
Revamp Your Recipes With Resilience CBD
If you can't seem to get enough of these CBD cookies, come back to this recipe whenever you're in the mood for a home-cooked, health-positive dessert. 
For those looking to get even more creative with CBD oil, try adding the Citron Zest Full Spectrum CBD Oil to a homemade sauce that's tangy and tart. Or, add a few drops of the Orange Rise Isolate CBD Oil to a freshly steeped cup of blood orange tea. 
Whatever your preferred recipe, you can count on Resilience CBD to provide you with the highest quality CBD extract that's 100% free from THC and any other psychoactive ingredients. 
Plus, each of our products is made with organically grown, domestic hemp and has undergone third-party lab testing to monitor and ensure our product's quality and consistency. 
Bake health and balance back into your lifestyle with Resilience CBD. 
---
Sources: 
Taste of Home. Your Guide to Cooking with CBD Oil. https://www.tasteofhome.com/article/cooking-with-cbd-oil/
Butternut Bakery. Brown Butter & Maple Chewy Pumpkin Cookies. https://butternutbakeryblog.com/chewy-pumpkin-cookies/?utm_campaign=later-linkinbio-butternutbakery&utm_content=later-10352461&utm_medium=social&utm_source=instagram#tasty-recipes-4042-jump-target
HuffPost. How To Bake With CBD.  https://www.huffpost.com/entry/how-to-bake-cbd_l_5cd08bd1e4b04e275d4e8ba7
Harvard Health Publishing. Cannabidiol (CBD)-what we know and what we don't.  https://www.health.harvard.edu/blog/cannabidiol-cbd-what-we-know-and-what-we-dont-2018082414476
Boston Magazine. Turn Your Self-Care Routine Up a Notch with These CBD Recipes. https://www.bostonmagazine.com/health/2019/01/09/cbd-recipes-stress-relief/