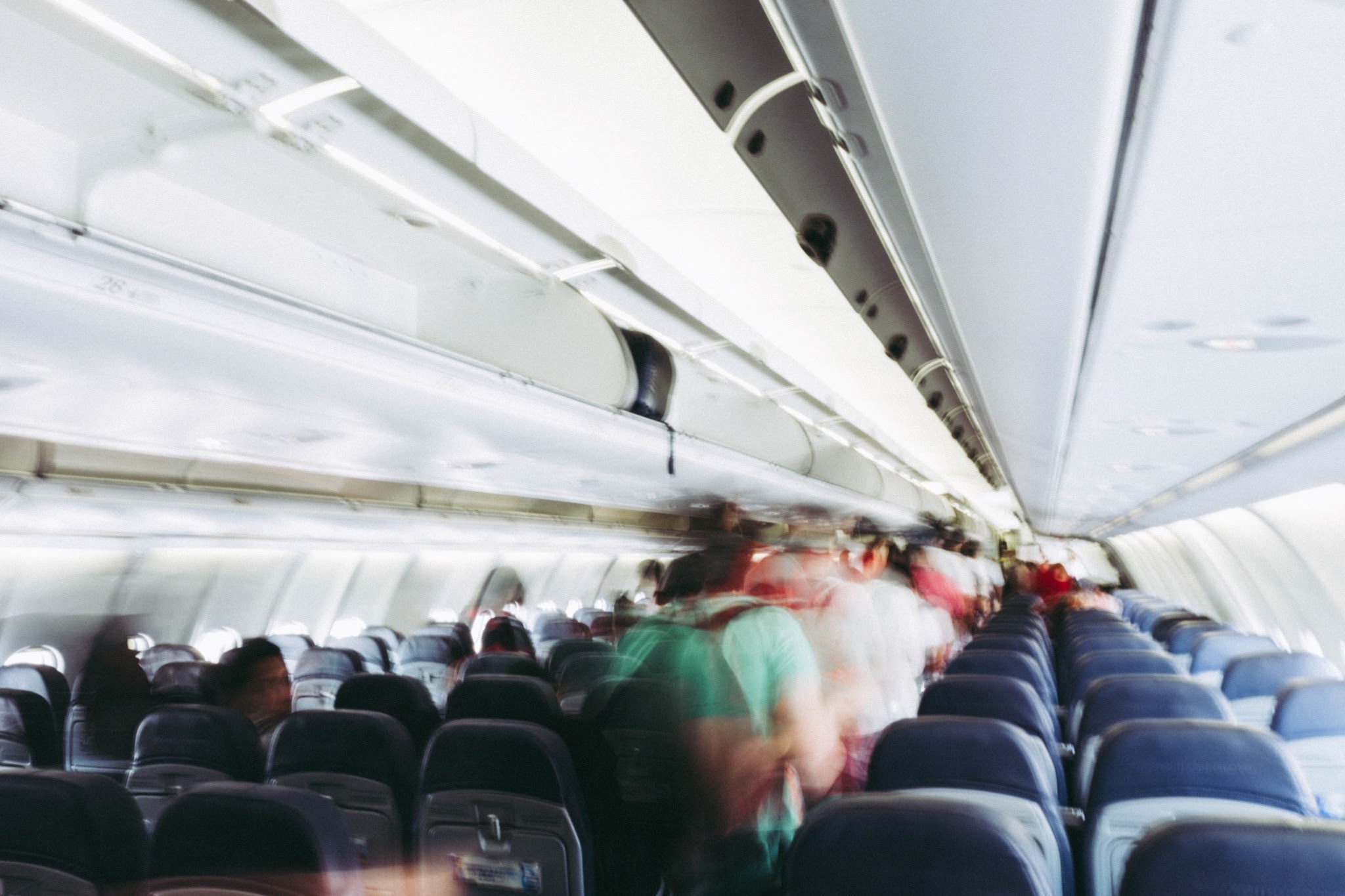 September 26, 2023
Air travel can stir up a medley of feelings. As such, your thoughts can run the full gamut within minutes, from excitement about the trip to apprehension about flying. What's more, sitting on a plane for hours with your knees pushed against the seat in front of you can cause joint stiffness that lingers long after the flight ends.
If CBD oil is your go-to when it comes to airplane-related stress and discomfort, then you're probably wondering can you bring CBD on a plane? Yes. However, there are certain rules and restrictions when it comes to the amount and type of oil you bring on the plane. 
Read on to learn if your favorite CBD products can travel safely with you on your next flight.
Key Takeaways
CBD oils can be brought onto domestic flights within the United States.

International flights may allow CBD oil if it's legal in the country you're flying to.

When flying with CBD, container size requirements and THC content regulations apply.

Taking CBD before you fly may help you feel calmer and more comfortable on the flight.
TSA Rules and Regulations For CBD Oil on International and Domestic Flights
Luckily, those looking for rest and relaxation on national flights can bring CBD oil through TSA security screening checkpoints and on the plane. 
But, can you fly with CBD oil during every flight? Unfortunately, not always. 
International flights get a little trickier when it comes to CBD carry-ons. While the rules are constantly changing, some countries have restrictions when it comes to traveling across their borders with CBD oil or other CBD products. These countries include:
Mexico

– The use of CBD oils is restricted to medical use only. To that end, avoid bringing your favorite CBD products aboard flights that touch down on Mexican soil.

Countries in Asia

– Outside of India and Japan, you cannot legally bring products containing CBD on your flight when flying to an Asian country. While some countries allow

CBD oil use

for medical purposes, most countries in Asia prohibit the use. To that end, ensure you do your research before take-off. 

United Kingdom

– CBD products brought into the U.K. may not contain any trace of THC.

Germany

– The THC limit for CBD products in Germany is lower than that of the U.S. at 0.2%. To avoid run-ins with German officials, check the labels of your CBD products to ensure their THC levels are below the legal limit.

France

– CBD products can only be brought into France if they contain no THC. Since many CBD products in America contain 0.3% THC, it may be best to leave your CBD products behind. 

South Africa

– CBD is approved for medical use provided it contains less than 0.001% of THC.

Brazil

– The use of CBD containing no more than 0.2% of THC is permitted.

Australia

– CBD containing less than 0.2% of THC is allowed.

Costa Rica

– You can carry CBD oil with less than 0.3% THC into the country with you.
Limitations about usage and THC levels vary by country. The best advice for CBD users that wish to carry CBD oil with them on an international flight is to always check with government regulations before you fly and abide by the laws of the country to which you're flying. 
Domestic Flight Restrictions For Traveling With CBD Oil
Flying with CBD oil within the United States is allowed. However, you must abide by THC content limitations, bottle size regulations, and carry-on rules, particularly when bringing aboard vape pens. 
Let's break down some of the nuances of boarding a plane with CBD oil.
THC Content
So, when can you take CBD on a plane?
Per legal regulations, the THC content of your CBD product must be less than 0.3% if you plan to bring CBD edibles on the plane with you. According to the TSA, this is measured on a dry weight basis, which signifies how much the plant would weigh if at least 87% of the water content was removed. 
Before you panic and wonder how you're supposed to figure that out, take a CBD gummy and relax. It'll take a little more work before your flight, but if you want to ensure that everything will go smoothly, you should find the product's certificate of analysis (CoA). You can find the CoA in a few simple steps:
Look at the packaging of the CBD product you have and find the QR code

Scan the QR code, which will take you to the manufacturer's website

Locate the CoA and print it out

Bring a copy of the CoA with you when you travel
The CoA is important because it lists:
The percentage of THC

When the product was tested

The lab that performed the testing
Ultimately, whether or not you're allowed to bring your CBD oil on the plane is up to the TSA agent checking your baggage. However, having the CoA might make a difference if there's a question about the THC content of your product.
Furthermore, it's your responsibility to know what you have in your possession when you board a plane and reviewing the CoA can help you know what your CBD product contains.
3-Ounce Liquid Rule
Along with the limitation on THC in your CBD oil, the TSA applies the 3-ounce liquid rule to CBD products. This means that any oils, lotions, creams, or tinctures must be in containers that are 3 ounces or smaller. Anything larger than this won't be permitted to pass through security in your carry-on baggage.
Vape Pens
If you use a vape pen for your CBD delivery, you can bring it on the plane with you. However, it must be in your carry-on bag or your pocket, not your checked baggage. This is because the batteries of vaping devices have been known to catch fire, posing a hazard if they're left unmonitored in the cargo hold of the plane. 
A few things to remember when carrying your vape pen on a flight:
Remove it from your bag or pocket when you go through security to notify TSA

Disassemble the pen and have the parts separated before arriving at the airport to make it easy for TSA to inspect

Avoid using the pen on the plane—it should remain packed away during the flight
If space for carry-on luggage is limited and you end up having to gate-check your bag, make sure you remove the pen before leaving your checked luggage on the jet bridge. 
Checked Baggage
You can pack CBD products in your checked baggage. However, the same rules about THC level apply to those in your carry-on. It's still wise to print the CoA and bring it with you if an employee at the check-in or security check has any questions about the content in your suitcase.

The Benefits of Flying With CBD
Hurtling through the sky in a metal box can cause many people to feel frightened and stressed. In fact, one in four people report feeling nervous about flying, and 6.5% of the U.S. population experiences serious aviophobia.
If you're one of the 25% of people who experience nervousness before and during a flight, a CBD product might be able to help you feel more relaxed so that you can enjoy your trip. To that end, there are two central benefits to traveling with CBD.
#1 Feel Calmer and More Relaxed 
Dropping a few drops of CBD oil under your tongue before you arrive at the airport or in your water bottle as you board the plane may help you travel with ease. 
The best CBD products for those who experience apprehension and unease about flying are those that can be applied sublingually, as they are more effectively absorbed by the body. For example, you may experience a calmer trip if you use a CBD oil tincture. 
Tinctures are designed to be placed under the tongue and can come in a variety of tasty flavors. Just remember to store your tincture in a container that's no larger than 3-ounces per TSA regulations. Or, you can chew a few CBD gummies before boarding your flight to promote full-body calmness.
#2 Ease Joint Discomfort After a Long Flight
We know the feeling—you stand up when it's time to deplane and every muscle in your back and legs feel tight—your knees crack like popcorn, even your neck is sore. 
To prevent post-travel soreness and stay energized and comfortable for your vacation to come, try rubbing on a soothing lotion or cream. It might help ease some of the bodily discomfort associated with flying. 
When Should You Take CBD Before Your Flight?
The amount of time it'll take you to feel the effects of your CBD products depends on several factors including:
The type of product you use

The concentration of CBD in the product

Your body composition
Generally, it's recommended to take around 30-50 mg of CBD a day. However, depending on your tolerance level, you may have to decrease or increase the amount of CBD you take for optimal comfort.
To feel more relaxed on a plane, you can eat a few CBD gummies or put a few drops of oil under your tongue while waiting to board. Generally, a tincture acts more quickly than CBD gummies to deliver you full-body stress relief, so plan accordingly to ensure your flight is comfortable. 
After you land, a little bit of cream or lotion on your aching joints will have you ready to get out and sightsee in no time. Generally, you should start feeling relief within 15 minutes of applying the CBD topical product.
Resilience CBD: Your Trusted Captain For All Things Calm
It's quite common to feel nervous about flying. Flying can cause a lot of emotional discomforts. Plus, sitting in a cramped position for hours at a time won't do your joints any favors. 
Luckily, as long as you follow the rules set by the TSA, you can take CBD edibles on the plane if you're flying domestically. 
At Resilience CBD, we have supplies to meet all your CBD needs, including gummies, oils, and lotions. On your next flight, help yourself to a few of our CBD gummies or oils before taking off to help yourself relax in style.
---
Sources: 
TSA. Medical Marijuana. https://www.tsa.gov/travel/security-screening/whatcanibring/items/medical-marijuana
Focus on Travel News. To Which Countries Can You Travel With CBD? https://ftnnews.com/health-a-spa/41519-to-which-countries-can-you-travel-with-cbd
Travel and Leisure. A Traveler's Guide to CBD. https://www.travelandleisure.com/travel-tips/guide-to-using-cbd-for-travel
Vermont Agency of Agriculture, Food & Markets. Frequently Asked Questions. https://agriculture.vermont.gov/sites/agriculture/files/documents/PHARM/hemp/Certificate%20of%20Analysis%20Interpretation%20and%20Determining%20compliance.pdf
WebMD. Is CBD Safe to Carry on a Plane? https://www.webmd.com/a-to-z-guides/news/20191127/is-cbd-safe-to-carry-on-a-plane
TSA. Electronic Cigarettes and Vaping Devices. https://www.tsa.gov/travel/security-screening/whatcanibring/items/electronic-cigarettes-and-vaping-devices
NBC News. How to Calm Anxiety When You're On a Flight. https://www.nbcnews.com/better/health/your-4-step-guide-overcoming-your-fear-flying-ncna786746