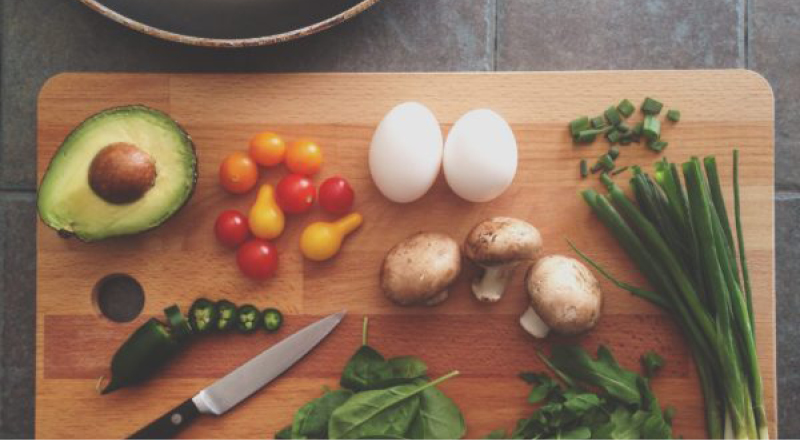 February 13, 2020
Breakfast, Lunch, and Dinner, Resilience Style.
---
---
How you recover and refuel your body are both so important, especially when you're working hard to achieve your fitness goals. What if you could combine each of those factors into one? 
We've pulled together some of our most recommended Resilience Recipes into a full day of protein-packed, recovery-boosting meals.  Keep reading for a full breakfast, lunch, and dinner, Resilience CBD style. 
PACK IN THAT PROTEIN
It's most important to focus on your protein consumption after a workout. You've just put a lot of physical stress on your body and need to ensure you're maximizing the impact of your workout. Protein improves muscle protein synthesis — the process where your muscles are recovering and adapting by building muscle mass.
REMEMBER TO RECOVER.
Recovery is one of the most overlooked aspects of fitness. Take it from the pros like Lebron James, Tom Brady, and Serena Williams.  As mentioned above, exercise breaks your body down. In order to build it back up, stick to your fitness goals, reduce your risk of injury, and get the most out of your workouts, you have to ensure you're recovering fully. Our line of CBD products is designed to do just that. To take it a step further, we created this full-day meal guide that packs in protein and our recovery-focused CBD oils so you can double-down on recovery and double-up on the weights. 
These can all be meal-prepped beforehand, but for a dedicated CBD meal-prep guide, check out this blog!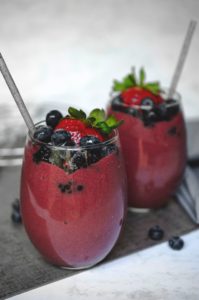 BREAKFAST PBJ SMOOTHIE
It's no secret that breakfast is the most important meal of the day. This hearty (yet low calorie) smoothie will fill you up and give you the sustained energy you need throughout the day.
Main Benefits:  
Berries are a great source of antioxidants, improve heart health and blood sugar control. These delicious fruits will help curb the sugar cravings you experience throughout the day. 

Peanut butter is high in protein and will play a key role in keeping your full until lunch hour arrives.

Spinach: This smoothie may be packed with protein, but thanks to spinach, it's packed with vitamins, too. You'll get your full source of vitamin A, C, K, iron, and magnesium with these greens. 
Ingredients:  
1 cup mixed berries

2 tablespoons peanut butter
1 scoop preferred protein powder
1 ML CBD Oil
½ cup preferred milk
Instructions:
Add all ingredients to the blender and mix. If you're feeling fancy, top with chopped strawberries and drizzle with peanut butter!
LUNCH: AVOCADO + EGG SPREAD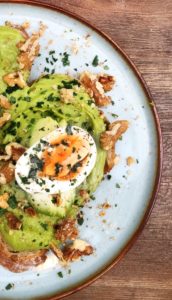 This is a delicious and versatile lunch. It can be eaten plain, topped on wheat toast for a great pre-workout meal, or used as a healthy dip alternative. 
Main Benefits:
Hard-boiled eggs are low in calories but packed with vitamins. Each egg has about 7g of protein and is rich in vitamin D, B12, and B6. 

Greek yogurt is a probiotic and protein-packed

ingredient that mixes great with our CBD oil.

 Lastly, you're starting your day with a delicious superfood: Avocado. An excellent source of essential fatty acids, it will work with the CBD to ward off inflammation and boost focus.
Ingredients:  
2-3 hard-boiled eggs

1/4 cup celery
1-2 avocados
1 tablespoon chopped chives
1 tablespoon chopped cilantro
1 teaspoon lemon juice
1 ML

CBD Oil

1-2 tablespoons plain greek yogurt (depending on preferred thickness)

salt + pepper to taste (we recommend about 2 tsp each)
Instructions:
Add pitted and peeled avocados into a bowl with lemon juice. Use a fork to lightly mash

Add in yogurt, CBD and chopped, peeled eggs. Fold until fully combined

Lightly mix in salt, pepper, and herbs
You can eat this plain, throw it on some whole wheat bread for a great pre-workout meal, or dip crackers in it for a midday snack.
Enjoy!
DINNER: GREEN GRAIN GREEK BOWL
A healthy, filling (and tasty) bowl is exactly what you need by the time dinner hour arrives! This is a great one to meal prep, just double the recipe and throw half of it in the fridge to have for lunch or dinner the following day! 
Main Benefits:
Did you know quinoa is one of the most protein-rich foods out there? It's a superfood and complete protein, containing all the essential amino acids! 

As well as being extremely protein-packed, Tuna is a great source of vitamins and nutrients, contributing to heart health, a stronger immune system, and reduced blood pressure
Ingredients:  
1 cup cooked quinoa according to package 

1 can of white tuna 

¼ cup chopped grape tomatoes 

¼ cup chopped cucumber 

2 tsp olive oil

1  tsp red wine vinegar 

1 tsp Lemon juice  

1 big handful of spinach

¼ cup chickpeas drained and rinsed 

1 ML

CBD Oil 

1 tbs of feta or goat cheese

Salt and pepper to taste
Instructions:
Combine salt, pepper, lemon juice, CBD, olive oil, and red wine vinegar in a bowl. 

Add quinoa and lightly toss. Then toss in greens and tuna. 

Fold in the rest of the veggies
We want to see your original recipes! Please share your recipes with us @ResilienceCBD. If there are any Resilience Recipes you'd like to see,  drop us a note on our contact page or Contact@ResilienceCBD.com
---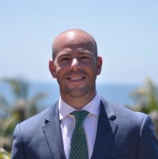 Written by: Michael Tatz | Linkedin
Michael Tatz is the Co-Founder of Resilience CBD,  and a passionate leader in the health & fitness world helping others rise to and crush their wildest goals.  A former Division 1 college wrestler,  Army Officer,  and investment manager at Goldman Sachs,  he has pushed his body and mind to the limits on the mats, dressed in camo,  and in the boardroom.
Today, he spends his time leading Resilience CBD to develop the absolute best recovery products for athletes everywhere.  Resilience was founded after CBD personally impacted Michael's life,  and the brand was built to partner with everyday athletes in pursuit of conquering their most difficult challenges,  rebounding after their toughest performances,  and rising to their goals that once seemed impossible. 

Share this Blog post!